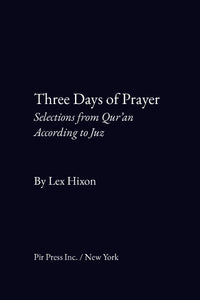 Nur Al-Jerrahi / Lex Hixon
Three Days of Prayer: Selections from Qur'an According to Juz
Regular price
$ 10.00
$ 0.00
By Lex Hixon
Mystic interpretation of selections from Quran with the original Arabic and transliteration. 
This selection of noble Quranic verses emerged from the communal practice of Ramadan during its intensified final ten days. A child born in the Holy Month is considered to be specially blessed; so it is with a spiritual child of Divine Light such as the present composition. This is no mere compilation. Each time the Glorious Quran is chanted, it is revealed anew by Allah Most High.
There are two poles of the Islamic week. Friday, the Day of Allah, begins Thursday at sunset and contains the universal congregational noon prayer, or juma. This gathering of Muslims across the planet provides a mystical reflection within time of the End of Time, when lovers of Truth will gather under the green banner of praise belonging to Muhammad the Messenger, upon him be peace. The second pole of the week, Monday, which ends at sunset, is the day of the Prophet's birth.
The author selected these 120 verses to mark forty cycles of prostration each day during the three days of the week that contain both its spiritual poles, which are like the foci of an ellipse. The verses are not meant to be studied but prayed. These renderings are on the level of tafsir, or interpretation.
ISBN-9798211431058
Paperback: 150 pages
---
Share this Product
---
More from this collection